by Jon Rappoport
March 15, 2022
(To join our email list, click here.)
The thirst for STORY is endless.
People want to attach themselves to a story line and ride it.
You take that away from them and they unravel.
If there is no virus, there is no COVID story. At least not in a conventional sense.
There is a hole where there "should be" a story.
Even worse, suppose the alternative is: a person tells his own story.
Now you're getting into deep water.
And now I'm not talking about a virus or no virus. I'm talking about life.
We're all story tellers. We can invent endless numbers of them.
Most of us believe "we don't have the chance to tell them." The audience isn't there.
This is an illusion.
If you start telling stories, people will show up.
The enemy is DESPAIR. Which means people believe their own problems outdistance and supersede the possibility of telling stories and listening to other non-official people tell their stories.
In that mindset, people will take what they can get. For example, a story about a virus that is spreading across the world.
In many cultures, there is the archetype of the story teller. He comes loaded with tales. He dispenses them. For such a person, the virus story would be so far down on his list, it would be virtually defunct. Useless. Dull. Why waste time with it? There are so many other narratives that are so much more interesting and stimulating.
If you had a culture in which everyone was both a listener to and a teller of stories, eventually you would see that "believing a story is real" fades in significance. You're no longer selling belief. Something quite different is happening.
The whole level of imagination is rising. The quality of energy is being transformed. What people feel they need and don't need changes. What people want to buy and sell changes.
Cultures that have few interesting stories are ignored. Monolithic cultures are left by the side of the road.
There is a new coin of the realm. Stories.
Every person has that coin.
---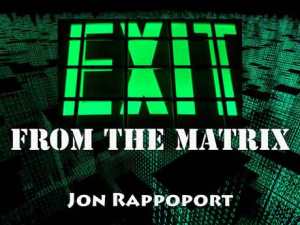 (To read about Jon's mega-collection, Exit From The Matrix, click here.)
---
Jon Rappoport
The author of three explosive collections, THE MATRIX REVEALED, EXIT FROM THE MATRIX, and POWER OUTSIDE THE MATRIX, Jon was a candidate for a US Congressional seat in the 29th District of California. He maintains a consulting practice for private clients, the purpose of which is the expansion of personal creative power. Nominated for a Pulitzer Prize, he has worked as an investigative reporter for 30 years, writing articles on politics, medicine, and health for CBS Healthwatch, LA Weekly, Spin Magazine, Stern, and other newspapers and magazines in the US and Europe. Jon has delivered lectures and seminars on global politics, health, logic, and creative power to audiences around the world. You can sign up for his free NoMoreFakeNews emails here or his free OutsideTheRealityMachine emails here.