by Jon Rappoport
March 17, 2022
(To join our email list, click here.)
"When you want to know how things really work, study them when they're coming apart." — William Gibson, "Zero History"
These are notes. They have to be. Otherwise, I'd be trying to make a model out of something that eats models.
Shake off the literal.
Drop it for a minute.
It won't kill you.
Through a combination of ingenious marketing ploys and technological advancements, we now think of a few years as a significant period of time, in which great changes race across the landscape. If a month goes by with no riveting happening reflected in the press, we lapse into boredom. But if we look back and consider, say, the years 200-300 AD or 400-300 BCE…it feels as if we're watching paint dry. I bring this up because only a hundred years have passed since the upheaval in art that declared, once and for all, that the artist doesn't need to imitate Nature. A hundred years are a mere blip on the calendar.
The modern artist is getting his sea legs. He will produce new kinds of languages.
These new languages won't be imitative in any sense. They'll be created. Again and again, we've circulated around the cluster of meanings and emotions and yearnings we identify as "profoundly human." This is going to change. In the journey, we won't be lugging old suitcases full of psychology and cosmology and metaphysics and science.
When all our experience and thought is poured through a vessel of language that is only equipped to deliver a tiny fraction of what we can invent and perceive, we go around and around on the wheel. We condition ourselves to pretend—unconsciously—that language is an admirable mirror of our potential.
This is a delusion.
Think of the cave man struggling in his world to express a few ideas to his clan. Then, unload on him the full weight of a sophisticated lexicon. Pick one. Tang Dynasty Chinese. It would look to him—if it looked like anything at all—like a dazzling galactic storm. Ideas, emotions, distinctions, metaphors signaling levels of being and experience beyond possibility.
We are at a similar crossroad.
Fortunately, we aren't invulnerable to change. We will eventually look back on this present as lackluster, as if people in the year 2022 were forcing premeditated restrictions on their language. Now, we only see a hint or two of our future. We insist on a tranquil view of our accomplishments; we think of ourselves as so generous with language. If only we knew.
Shakespeare invented some 1700 new words in his plays. For example, premeditated; lackluster; invulnerable; hint; generous; tranquil. They're all in the paragraph I just concocted.
Ecstatic moments that suddenly appear and then vaporize in dreams; exotic shapes that well up through the push-pull of analytic calculation; chains that snap during odd reflections; huge propelled desires that seem to find no home or target; dynamic glints in the skies…these unlabeled events that put cracks in our armor will become letters and words and sentences in a new tongue and script.
---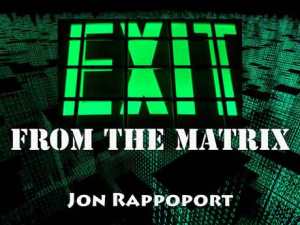 (To read about Jon's mega-collection, Exit From The Matrix, click here.)
---
Jon Rappoport
The author of three explosive collections, THE MATRIX REVEALED, EXIT FROM THE MATRIX, and POWER OUTSIDE THE MATRIX, Jon was a candidate for a US Congressional seat in the 29th District of California. He maintains a consulting practice for private clients, the purpose of which is the expansion of personal creative power. Nominated for a Pulitzer Prize, he has worked as an investigative reporter for 30 years, writing articles on politics, medicine, and health for CBS Healthwatch, LA Weekly, Spin Magazine, Stern, and other newspapers and magazines in the US and Europe. Jon has delivered lectures and seminars on global politics, health, logic, and creative power to audiences around the world. You can sign up for his free NoMoreFakeNews emails here or his free OutsideTheRealityMachine emails here.