by Jon Rappoport
April 20, 2022
(To join our email list, click here.)
When you go back and read some of the old myths of the gods, you see that they went back and forth between their "home" beyond this space and time—and they also entered this Earth Locale and made things happen here.
We, too, have an extraordinary fluidity. We put that on the shelf when we are here on Earth. So we forget what we can really do.
I remember as a child listening to the famous radio show called The Shadow. The hero was portrayed as a man who, in the mysterious East, had learned the secret of clouding other people's minds so they couldn't see him. This was the key to his invisibility.
It makes a charming tale, but the reality behind that is this: a magician (one who makes magic) moves from HERE to THERE, and THERE is simply another place outside this continuum.
We can find that idea reflected in modern physics. The scientists (some of them) admit that tiny particles of energy are constantly disappearing and re-appearing.
In other words, the particles are going beyond the framework of this universe and then they are coming back.
It's no big deal to those particles. They do it all the time. It shouldn't be a bizarre thing to us, either. It's only strange relative to the incredibly conformist culture in which we live.
And that's the key: the conformist culture. Nobody stops and thinks about how deep the conformity goes. That's another college course we need: HOW DEEP DOES CONFORMITY REALLY GO?
---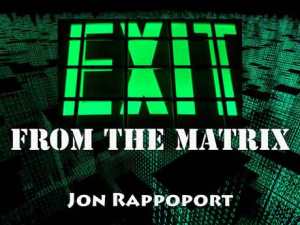 (To read about Jon's mega-collection, Exit From The Matrix, click here.)
---
Jon Rappoport
The author of three explosive collections, THE MATRIX REVEALED, EXIT FROM THE MATRIX, and POWER OUTSIDE THE MATRIX, Jon was a candidate for a US Congressional seat in the 29th District of California. He maintains a consulting practice for private clients, the purpose of which is the expansion of personal creative power. Nominated for a Pulitzer Prize, he has worked as an investigative reporter for 30 years, writing articles on politics, medicine, and health for CBS Healthwatch, LA Weekly, Spin Magazine, Stern, and other newspapers and magazines in the US and Europe. Jon has delivered lectures and seminars on global politics, health, logic, and creative power to audiences around the world. You can sign up for his free NoMoreFakeNews emails here or his free OutsideTheRealityMachine emails here.