by Jon Rappoport
April 26, 2022
(To join our email list, click here.)
(Episode 6 of Rappoport Podcasts — "Kill-Shot Psychiatry, George Carlin, hero Peter Breggin; And the Real Drug War That Is Eating America" — is now posted on my substack. To listen, click here. To learn more about This Episode of Rappoport Podcasts, click here.)
(For "The temporary continuum, Part One", click here.)
~~~
Let's say you want to tell time. You want to know what time it is. You want to be able to know in the morning and in the afternoon and at night. So you buy a clock. Poof. You've got what you want. You can glance over at the clock whenever you want to, and you can get what you need.
Does that mean you have to know how the clock was built? Do you have to be able to take it apart and get in there and figure out how everything works and connects?
Somebody else might want to do that, in which case he buys the clock and disassembles it. But you just want to know the time.
Let's take this a little further. Suppose, astonishingly, as this other person takes apart the clock and studies it, he finds out there are clues embedded in it. Clues that keep pointing back to HIM. And to everybody else.
He just wanted to know how the clock was built, but he got more than he bargained for. He got little arrows of knowledge that kept pointing back at him.
And what did these arrows tell him? First of all, they told him the clock was far more complex than he thought it was. Currents of electrons flowing through the clock were also simultaneously hooking up with electrons that weren't even inside the clock or anywhere near it.
This made him nervous. He was all about clocks and cogs and wheels, and he got bizarre contradictions and impossibilities.
As if that weren't enough, he also began to realize that his own consciousness was somehow interacting with the clock mechanism. That freaked him out.
But he pressed on. He couldn't stop now.
What followed was a twisting path of hints and surprises that baffled and confounded him. It was like stepping through a mirror. It was like dreaming. He didn't like it, but he wouldn't let go. He was holding on to his old ideas as he was discovering new ones. So he began to develop theories that looked like patchwork quilts of half-formed and confusing images.
This pretty much sums up where modern physics is.
The big missing piece of the puzzle is YOU. They don't get that one yet.
YOU CREATE REALITIES. And since you do, the universe—which is just another reality—is going to reflect back some ideas about you and you creating realities.
We're very much here in this universe and we want that. After all, we bought the ticket and we aim to take the full ride.
When we bought the ticket to this space-time-solidity continuum, we knew we would have to be self-deceiving artists. The amusement park was too easy to see through. We could walk around in back of the rides and observe how they were built. That would destroy the illusion that is vital to the sensation we seek.
So we had to create a massive OBSCURING.
Massive enough to keep us from ever being able to sneak around behind the rides.
That's a kind of very effective art.
---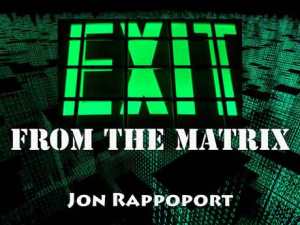 (To read about Jon's mega-collection, Exit From The Matrix, click here.)
---
Jon Rappoport
The author of three explosive collections, THE MATRIX REVEALED, EXIT FROM THE MATRIX, and POWER OUTSIDE THE MATRIX, Jon was a candidate for a US Congressional seat in the 29th District of California. He maintains a consulting practice for private clients, the purpose of which is the expansion of personal creative power. Nominated for a Pulitzer Prize, he has worked as an investigative reporter for 30 years, writing articles on politics, medicine, and health for CBS Healthwatch, LA Weekly, Spin Magazine, Stern, and other newspapers and magazines in the US and Europe. Jon has delivered lectures and seminars on global politics, health, logic, and creative power to audiences around the world. You can sign up for his free NoMoreFakeNews emails here or his free OutsideTheRealityMachine emails here.