by Jon Rappoport
April 28, 2022
(To join our email list, click here.)
(For "The temporary continuum, Part Three", click here.)
Thirty years ago, I used to walk around Los Angeles with my camera snapping hundreds of pictures. At the Norton Simon Museum in Pasadena, on a Saturday afternoon, I was standing outside the main building taking pictures of Rodin's large sculpture, The Burghers of Calais. A heavy-set woman wearing a long coat suddenly stepped into the scene and looked up at one of the Burghers. I caught her in the frame and snapped the shot. Later, when the black-and-white photo was developed, it turned out that her overhanging hair-do was nearly identical to the piled up arrangement of hair on the Burgher she was staring at. Her head was the same wedge shape as the Burgher's. The similarity and the dissonance (a metal man, a flesh-and-blood woman, from two different epochs) were startling.
A few minutes later, inside the Museum, I was focusing my camera on a very large painting of several 18th-century courtesans reclining on a couch in a luxurious chamber hung with rich heavy curtains. This was just the kind of painting I would ordinarily pass without a second glance. Two girls stepped in front of the painting and looked up at it. I snapped several shots. Later, after developing them, I saw that the girls were wearing all sorts of costume bracelets and rings. The contrast between the girls' and the courtesans' jewelry, and between the young fresh faces of the girls and the opulent experienced faces of the courtesans, was quite marvelous—and the photo diminished the distance and separateness between the girls and the painting.
As a wandering photographer in Los Angeles, I experienced many of these spontaneous synchronicities.
This was a different order of reality. I would never have found it, had I not been carrying a camera and taking pictures. It would have been invisible. But there it was, on film.
A "level of continuum" that doesn't really exist—except it does.
A spontaneous level, if you will, that rises beyond "solid and final reality."
---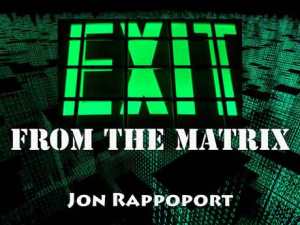 (To read about Jon's mega-collection, Exit From The Matrix, click here.)
---
Jon Rappoport
The author of three explosive collections, THE MATRIX REVEALED, EXIT FROM THE MATRIX, and POWER OUTSIDE THE MATRIX, Jon was a candidate for a US Congressional seat in the 29th District of California. He maintains a consulting practice for private clients, the purpose of which is the expansion of personal creative power. Nominated for a Pulitzer Prize, he has worked as an investigative reporter for 30 years, writing articles on politics, medicine, and health for CBS Healthwatch, LA Weekly, Spin Magazine, Stern, and other newspapers and magazines in the US and Europe. Jon has delivered lectures and seminars on global politics, health, logic, and creative power to audiences around the world. You can sign up for his free NoMoreFakeNews emails here or his free OutsideTheRealityMachine emails here.