by Jon Rappoport
May 4, 2022
(To join our email list, click here.)
(Episode 7 of Rappoport Podcasts — "The Whole COVID and AIDS Fraud: My 35 Years of Investigation; The complete story for the first time" — is now posted on my substack. To listen, click here. To learn more about This Episode of Rappoport Podcasts, click here.)
(For "The temporary continuum, Part Six", click here.)
The Surveillance State is inventing a new continuum.
Since we know snooping covers all data and all people who use data (meaning everybody), nothing is too trivial to be spied on and collected and stored and analyzed for suspicious content.
The technology may or not currently exist to collect every datum under the sun, but that's the goal, and the program is rapidly advancing.
The spying agencies will decide their limited algorithms should do more than interpret meaning: their formulas should govern and dictate what kind of communication is permissible.
To put it another way, people should communicate what can be analyzed by machines, and should refrain from touching on and inventing what the machines can't assess.
Surveillance becomes the arbiter and shaper of public and private interactions.
"Speak only in ways that allow us to decide whether you are a threat."
Those who break that rule will automatically fall under suspicion and be labeled. And investigated. An attempt will be made to reeducate them.
Into less intelligence and imagination.
Everything I'm describing in this piece is already, on some level, happening, although not all of it officially by fiat.
The Surveillance State is a sophisticated version of peer pressure, in which the peers turn out to be agents. Propaganda operatives invent a need for spying on populations, and their media allies refuse to expose this fact.
As the future unfolds, it will become obvious that the true purpose of snooping is to place a ceiling on what can be experienced.
Looked at from afar, whole populations will resemble prisoners shackled to grossly limited conceptions of themselves.
But there is a counter-trend. Even now, the natives are restless. Freed from old constrictions of organized religion and its mythologies, some people are recognizing they have the ability to exceed, step around, and move through the so-called laws of physics, into psychic territories that float beyond the space-time continuum.
Without laboriously citing examples (and even confirming studies), I would liken this breakout to the discovery that one can listen to music that has been labeled "dissonant" (outside the approved spectrum of harmony) and, in it, find new meanings and emotions and unreducible seas of life.
I can do that.
So can you.
We're not crazy. The Surveillance State is organized craziness. They're trying to invent a continuum that makes their craziness official.
They won't win.
---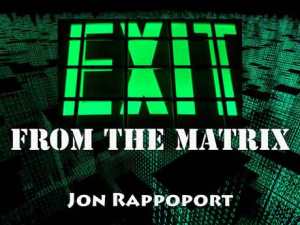 (To read about Jon's mega-collection, Exit From The Matrix, click here.)
---
Jon Rappoport
The author of three explosive collections, THE MATRIX REVEALED, EXIT FROM THE MATRIX, and POWER OUTSIDE THE MATRIX, Jon was a candidate for a US Congressional seat in the 29th District of California. He maintains a consulting practice for private clients, the purpose of which is the expansion of personal creative power. Nominated for a Pulitzer Prize, he has worked as an investigative reporter for 30 years, writing articles on politics, medicine, and health for CBS Healthwatch, LA Weekly, Spin Magazine, Stern, and other newspapers and magazines in the US and Europe. Jon has delivered lectures and seminars on global politics, health, logic, and creative power to audiences around the world. You can sign up for his free NoMoreFakeNews emails here or his free OutsideTheRealityMachine emails here.