by Jon Rappoport
May 12, 2022
(To join our email list, click here.)
I'm making a few assumptions.
You have your own idea about what "the reality machine" is. It may not be a perfectly formed idea, but it's there, and you know there's something very important and interesting about what sits outside that machine. You know the machine has something to do with imposed limitations on the mind. You think about offloading those limitations.
You consider the possibility that imagination is relevant to what sits outside the reality machine. Imagination isn't preoccupied with what already exists in the world or in the mind. That's a clue. Imagination journeys into untapped realms. You wonder about just how powerful imagination can be.
In the course of your life, you've had moments when limitations went away. How and why that happened may not be clear, but the experiences were vivid, and you can still remember some of them. The clouds parted. The gates opened.
And what I keep saying, in one way or another, is: imagination is the key. It's the key to offloading limitations.
That's because imagination doesn't care about repeating, over and over, what is already known and understood and perceived. That repetition doesn't disclose what sits outside the machine.
To exit the environs of the machine, you need to deploy the faculty you've always had, the faculty that never goes away, the faculty that leads you into unexplored territory. It's not enough to "try to change what you perceive," in order to see beyond the machine. You need to invent.
Imagine.
When I put together my collection, Exit From The Matrix, invention was my target. All the imagination exercises in that collection were designed to bring this faculty front and center.
The machine says: "Here is what reality is, and there is what reality is, and over there is more of what reality is, and what I show you is all that reality is. There is no other reality."
The faculty of imagination says: "There is no limit to what reality is, because you can invent new realities at every conceivable level of life and perception and experience."
Obviously, what I'm talking about here is not found in any text book. It isn't widely disseminated knowledge. This isn't psychology in any traditional sense of the word. It's not part and parcel of what society is.
I learned a great deal from reflecting on my experiences as a painter. I realized I could file that knowledge away or base my life on it. I could make it "dead data" or the wellspring of my own future.
What I'm discussing here, in this article, is not a principle implicit in the universe. People might like to say it is because then it takes the focus away from them. What I'm discussing in this article is implicit in the individual.
"The machine" is a metaphor for engineered consent on every level of life and consciousness, and at bottom the prime engineer is the individual himself. What is being engineered? Limitation. Lack of imagination. Normalcy.
"All human accomplishment has the same origin, identically…Imagination, imagination, imagination. It converts to actual. It sustains, it alters, it redeems!" (Saul Bellow)
"I am enough of an artist to draw freely upon my imagination. Imagination is more important than knowledge. Knowledge is limited. Imagination encircles the world." (Albert Einstein)
"This world is but canvas to our imaginations." (Henry David Thoreau)
"Imagination is like a muscle. I found out that the more I wrote, the bigger it got." (Philip Jose Farmer)
"Imagination is the only weapon in the war against reality." (Lewis Carroll)
"The tree which moves some to tears of joy is in the eyes of others only a green thing that stands in the way. Some see nature all ridicule and deformity… and some scarce see nature at all. But to the eyes of the man of imagination, nature is imagination itself." (William Blake)
"We lay there and looked up at the night sky and she told me about stars called blue squares and red swirls and I told her I'd never heard of them. Of course not, she said, the really important stuff they never tell you. You have to imagine it on your own." (Brian Andreas)
"The world of reality has its limits; the world of imagination is boundless." (Jean-Jacques Rousseau)
"Imagination isn't a thing. It isn't an object you can look at and measure. It's more like a secret language you've always known how to speak. But then they taught you the standard language. Nothing wrong with that, except you forgot the first language. You took the magic language and put it on a remote shelf in a faraway room. And now you look for it as if it were a chunk of gold. But that secret language has no boundaries. You can make it bigger. You can expand it without end. You can try to describe this language and characterize it and even define it, but then that limits what you'll do with it. All the trouble starts with the limiting. You settle for a smaller version of the secret language. You play with the smaller version. After a while, you've drained and explored it. What then? You need to expand and extend the secret language. Keep going. When you do, you find that this world, the physical world, makes more sense. You can see it more clearly. You can deal with it more successfully. That's good, because you and I and everyone else operates in this world. But that's not a reason for dropping the secret language…" (The Magician Awakes, Jon Rappoport)
---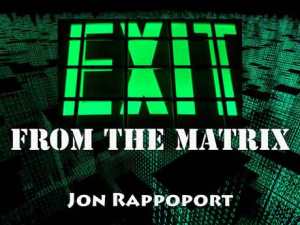 (To read about Jon's mega-collection, Exit From The Matrix, click here.)
---
Jon Rappoport
The author of three explosive collections, THE MATRIX REVEALED, EXIT FROM THE MATRIX, and POWER OUTSIDE THE MATRIX, Jon was a candidate for a US Congressional seat in the 29th District of California. He maintains a consulting practice for private clients, the purpose of which is the expansion of personal creative power. Nominated for a Pulitzer Prize, he has worked as an investigative reporter for 30 years, writing articles on politics, medicine, and health for CBS Healthwatch, LA Weekly, Spin Magazine, Stern, and other newspapers and magazines in the US and Europe. Jon has delivered lectures and seminars on global politics, health, logic, and creative power to audiences around the world. You can sign up for his free NoMoreFakeNews emails here or his free OutsideTheRealityMachine emails here.