by Jon Rappoport
May 31, 2022
(To join our email list, click here.)
(Episode 10 of Rappoport Podcasts — "Hottest Medical Crimes No One Else Will Cover; Plus New Monkeypox Revelations" — is now posted on my substack. It's a blockbuster. To listen, click here. To learn more about This Episode of Rappoport Podcasts, click here.)
---
And 500 million researchers were trying to figure it out.
They studied it from every angle, like police trying to solve a crime.
A crime so vast they were awed.
They forgot how long they had been working on the problem, when the music started.
It was loud and bombastic, and then they were all in a living room, in a remote castle that spanned a desert planet. People were dancing and eating and talking. People they had never seen.
A man spoke through a series of endless loudspeakers: LOVERS ARE LOOKING FOR LOST LOVERS. THAT'S TODAY'S SPECIAL. IT'LL BREAK YOUR HEART. I MEAN IT. IT'LL BREAK YOUR HEART IN SO MANY WAYS YOU'LL NEVER BE ABLE TO PUT YOURSELF BACK TOGETHER AGAIN. IF YOU'VE EVER LOVED DOWN TO THE BOTTOM OF YOUR SOUL, YOU KNOW WHAT I MEAN.
And suddenly, all those who didn't know what he meant vanished. There were perhaps a million people left. Of those, all but 14 kept studying what they'd assumed, until a few moments ago, was the last grain of the universe. They couldn't stop.
It took a long, long time for the 14 people to find and recognize each other.
And then there was an explosion and EVERYTHING (except the 14 people) was gone.
The 14 people knew they would make a new universe.
They didn't know how.
Would it emerge around them?
Would it float in like clouds?
Would it stand off in a corner, a child without his supper?
The seven reunited couples didn't care, and that, they soon discovered, was the key.
This shape, that shape, this principle, that principle, they were all tolerable; and no shape would guarantee a desired outcome in so far as BEHAVIOR was concerned.
But behavior was not the point. The seven couples were the whole point. Everything that happened after that would be all right.
---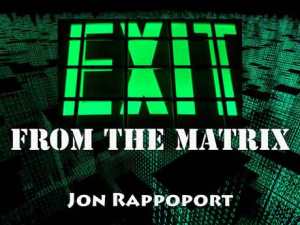 (To read about Jon's mega-collection, Exit From The Matrix, click here.)
---
To read Jon's articles on Substack, click here.
---
Jon Rappoport
The author of three explosive collections, THE MATRIX REVEALED, EXIT FROM THE MATRIX, and POWER OUTSIDE THE MATRIX, Jon was a candidate for a US Congressional seat in the 29th District of California. He maintains a consulting practice for private clients, the purpose of which is the expansion of personal creative power. Nominated for a Pulitzer Prize, he has worked as an investigative reporter for 30 years, writing articles on politics, medicine, and health for CBS Healthwatch, LA Weekly, Spin Magazine, Stern, and other newspapers and magazines in the US and Europe. Jon has delivered lectures and seminars on global politics, health, logic, and creative power to audiences around the world. You can sign up for his free NoMoreFakeNews emails here or his free OutsideTheRealityMachine emails here.