by Jon Rappoport (Copyright 2021)
December 29, 2022
(To join our email list, click here.)
For the full poem, click here.
Excerpt 005:
midtown Manhattan…my father walks from the haberdasher to the
barber shop with a new hat in a box
he sits in the chair and the barber winds it back and shaves him
with a straight razor that was lolling in a tall glass of alcohol
the barber wipes off the blade with a white linen towel and
moves the razor back and forth on his strop and shaves my father
and cuts his hair
the pool room on 14th Street, old men playing three-cushion slowly
with long tapered fingers, under a hanging lamp one face peeks in
and then it's ripped away as the floor sweeper lifts the shades and the
sun comes streaming through the dust
ever deepening beauty,
there is a little garden behind our house
where vines grow over a wood shed
and purple bougainvillea and morning glory
in this idyll I can rest
I can dream of her while I hold her hand
we set the kettle boiling
and pour the steaming water
and drink a tea of the world
you sold me an empty room
I moved in and found you there
you waited in the rain for me
And I came to you
The home we built at the end of a street
Is becoming larger every day
The poet picks the street on which he will starve
and grow rich
I am painting on a sheet of sturdy paper
A small garden
The sky is on the bottom
The flowers are on top
There are window boxes
I am making the same proposal to you, my darling
I pray to prayer
I deliver myself to you
I say the night and I say down the stairs we go again
never the garden
ever the garden
we are always in between everything we thought
always
my darling,
I'll go with you
into the garden
into the bedroom
into the living room
into the kitchen
on to the rust-colored couch after the sandstorm
when the evening is quiet
the stove is ticking
my dead father is again sitting in a metal chair playing pinochle with
his friends
my dead mother bounds down the stairs
she's suddenly thirty again
grinning with the August of the Black Sea
my sister is holding a feral dog in her arms and he is wrapping his
mouth around her wrist and slowly quieting down
Not one god
not fewer gods
give me a proliferation of gods
gods in plantains and mangoes
gods in broken chairs in vague Arizona motels
gods in piles of gray wood at the back of a barn in Mississippi
gods in statues on broad plazas in Chicago
gods in lagoons festering with green mold in San Diego
gods on the foggy windows of diners in Western Massachusetts
gods on the graves of Vikings and accountants in New Jersey
gods in silverware and white napkins
one version of what the old Tibetans
called the Great Void:
everybody looks around and tries to figure out what to
do
because the long hustle of discovery is over
and all the explorers have been paid off
There is nothing left
except a few magicians
living in cold mountains
punching holes in the universe at will
In Lhasa they were faced with that Nothing
and they turned to it in the eastern sky hanging like a lamp in a long
vacated whorehouse
and bowed
that was the only ceremony in the original book
which they later
in quiet rooms
burned in wood bowls
before starting their exercises
Worship?
Decay?
Never heard of it.
And now think of something else, perfect automobiles
streaming down a tropical planet toward the
a mirror lake on which stands a demigod in green pantaloons
who holds all data everywhere in his outstretched arms
and freeze THAT in memory like a sword for sixteen hours
without moving
and finally see universe
is a product
of mind
this is what they were doing
before they wrote the books and ordered the prayer wheels from
sears catalog
and jingle jangled their way into a theocracy on a cold saturday
morning
they were the dim sum masters
never ordered the same breakfast twice in the holy rivers of
energy
took apart the river and the energy
too
down to Nothing
sat in Void for
indeterminate length of no-time
stopping all creating
because they could
and then emerged
those few
magicians in the cold wasted hills and
and said WELL
if you folks want to elect a billion reincarnated hopalong
cassidys
as your head chief go ahead it doesn't matter
we're out here on the edge
inventing and destroying dimensions
---
(Episode 32 of Rappoport Podcasts — "The Transgender and Transhumanist Agenda; I connect MANY dots in ways they've never been (but should be) connected" — is now posted on my substack. It's a blockbuster. To listen, click here. To learn more about This Episode of Rappoport Podcasts, click here.)
---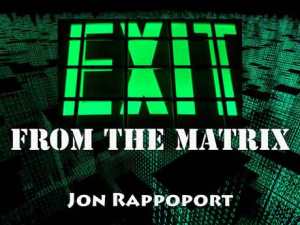 (To read about Jon's mega-collection, Exit From The Matrix, click here.)
---
To read Jon's articles on Substack, click here.
---
Jon Rappoport
The author of three explosive collections, THE MATRIX REVEALED, EXIT FROM THE MATRIX, and POWER OUTSIDE THE MATRIX, Jon was a candidate for a US Congressional seat in the 29th District of California. He maintains a consulting practice for private clients, the purpose of which is the expansion of personal creative power. Nominated for a Pulitzer Prize, he has worked as an investigative reporter for 30 years, writing articles on politics, medicine, and health for CBS Healthwatch, LA Weekly, Spin Magazine, Stern, and other newspapers and magazines in the US and Europe. Jon has delivered lectures and seminars on global politics, health, logic, and creative power to audiences around the world. You can sign up for his free NoMoreFakeNews emails here or his free OutsideTheRealityMachine emails here.