by Jon Rappoport
March 28, 2022
(To join our email list, click here.)
(Update: March 29, 2022: Episode 1 of Rappoport Podcasts is now live on my substack. To listen, click here. To learn more about Rappoport Podcasts, click here.)
You're riding on a train. You fall asleep and you dream.
Messages show up:
There is space and time between ideas. The character of space and time between each idea is not necessarily uniform. As you move from rock to rock across the stream, you may find there is a yard and a second in your first jump, and a mile and six days in your second jump. And the first jump is across a trickle, the second across an ocean, and the third across an old ruined back yard moon.
Sometimes, it's logic. Sometimes, it's not.
A datum, a suggestion, a thought is put through a filter at the door to a system, and if the filter determines the datum will fit into the paths of the system, it is permitted to enter.
That way, we remain on the same plane.
If, in the middle of a dinner party, you can make all the glasses on the table disappear at once, are you applying a system?
We are conditioned to believe that reality is a kind of coin that presents, on one face, a problem, and on the other, a solution.
Perhaps the ultimate secret society engineered what has become known as reality: the problem and the solution.
THE HABIT REFLEX.
FIND THE MAIN PROBLEM AND SOLVE IT, AND THEN FIND THE NEXT PROBLEM AND SOLVE IT.
DESIGN A REALITY THAT LOOKS LIKE A SERIES OF HILLS AND VALLEYS MADE UP OF PROBLEMS AND SOLUTIONS; TUNE PEOPLE TO THE IDEA OF FOLLOWING THIS COURSE OF ACTION—FINDING A PROBLEM AND SOLVING IT, OVER AND OVER; EVENTUALLY CREATE A STATE OF MIND IN WHICH HUMAN BEINGS CAN'T IMAGINE ANY OTHER WAY TO PROCEED.
Care only that the continuum would appear as a kind of rolling carpet of problems that demanded solving.
TAKE A VACATION IN THE SPACE TIME CONTINUUM.
THIS ONE IS FANTASTIC.
YOU WON'T COME HOME BORED.
THE KIDS WILL LOVE IT.
YOU'LL GET PROBLEMS TO SOLVE.
TEST YOUR CLEVERNESS AND RESOLVE.
CAN YOU SOLVE PUZZLES? YOU'LL LOVE THIS VACATION.
THRILLS AND CHILLS.
So you sign up and take the ride.
The door closes behind you. In for a penny, in for a pound.
It turns out this isn't really a vacation at all. It's a drip-method hypnosis machine, and you're getting sucked in. You're solving problems like crazy, and after awhile you're forgetting where you came from and you're forgetting this is a temporary vacation, and you can't find the door to go back where you started.
A musician plays a note, and someone says "That was a mistake." Well, if the musician could play 12,000 notes in a row that were all mistakes, each and every one, he would overturn the world.
And then you wake up on the train.
---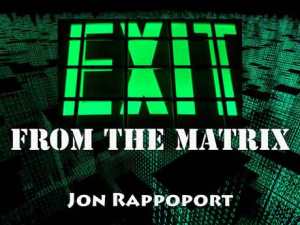 (To read about Jon's mega-collection, Exit From The Matrix, click here.)
---
Jon Rappoport
The author of three explosive collections, THE MATRIX REVEALED, EXIT FROM THE MATRIX, and POWER OUTSIDE THE MATRIX, Jon was a candidate for a US Congressional seat in the 29th District of California. He maintains a consulting practice for private clients, the purpose of which is the expansion of personal creative power. Nominated for a Pulitzer Prize, he has worked as an investigative reporter for 30 years, writing articles on politics, medicine, and health for CBS Healthwatch, LA Weekly, Spin Magazine, Stern, and other newspapers and magazines in the US and Europe. Jon has delivered lectures and seminars on global politics, health, logic, and creative power to audiences around the world. You can sign up for his free NoMoreFakeNews emails here or his free OutsideTheRealityMachine emails here.