by Jon Rappoport
May 17, 2022
(To join our email list, click here.)
Some extraterrestrial civilization observing Earth would have issued a report to home base:
"The planet is inhabited by different types of people who, basically, don't get along with each other. They never will. Earth is some sort of mixed bag. Their elites have decided to build a single race out of this mish-mash, through propaganda, mind control, and biological experimentation. That program is destructive, and it won't work."
The actual solution is a functioning Earth department of negotiation.
But not a government entity. So I call it a department store.
—Many people at work cooking up ways for people who basically don't get along to negotiate with each other.
The subject has never been explored as extensively as it needs to be.
Compromise is a slippery version of what we require, because it tends to make people abandon what they are. I'm not asking for that.
Negotiation is in the vein of two fortresses agreeing to leave two roads open for travel and not blow them up. The fortresses remain. They don't try to melt down into soft cheese.
The department store would feature thousands of glass cases. Inside each case would be an illustration of a negotiation. Diplomats would stroll through the store every day. Absorbing possibilities.
This is a forever enterprise.
Inside a prison, a common yard for all inmates is insane.
You have a black yard and a white yard and a Latin yard.
And then you have a department store, for the best and brightest of the three groups. They browse, they talk to one another, they propose specific deals. They're cautious. Circumspect.
Little by little, arrangements are hammered out.
Out in the world, there would have been a Russian-Ukrainian-NATO department store. For a decade or two. Zelensky wouldn't have become President. George Soros would have been exiled from the Ukraine. NATO (the US) would have reduced the number of nuclear missiles ringing Russia.
Negotiation is a method of avoiding extreme solutions. Including the extreme solution of declaring an all-out Peace, which would be alarming to all parties.
Gradually, a tradition builds: people who want shooting wars and people who want to eradicate hatred suddenly and radically are widely considered to be psychotic.
Hatred is a mountain of stone. During a given century, perhaps a layer one millimeter thick is worn away.
Recognizing and accepting hatred between groups, however, has a beneficial and mysterious effect. Nothing changes, and yet something does change.
Not through force. Not through demanding the alteration of language. Not through preaching. Not through the kind of condemnation and accusation and victim tunes we now swim in.
People learn to see their hatreds of each other as money in the bank. And they cherish that money. They can count it. They can look at it every day and make sure it's still there. Nobody is trying to seize the accounts.
And they know about the department store. Which grows larger every month, but retains its careful and cautious repose and composure.
A central feature of human culture is the stand-off.
Against the odds, it is admired.
The stand-off permits negotiation.
---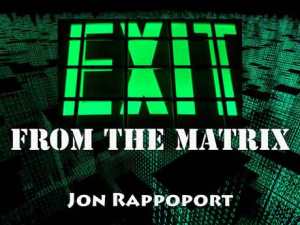 (To read about Jon's mega-collection, Exit From The Matrix, click here.)
---
Jon Rappoport
The author of three explosive collections, THE MATRIX REVEALED, EXIT FROM THE MATRIX, and POWER OUTSIDE THE MATRIX, Jon was a candidate for a US Congressional seat in the 29th District of California. He maintains a consulting practice for private clients, the purpose of which is the expansion of personal creative power. Nominated for a Pulitzer Prize, he has worked as an investigative reporter for 30 years, writing articles on politics, medicine, and health for CBS Healthwatch, LA Weekly, Spin Magazine, Stern, and other newspapers and magazines in the US and Europe. Jon has delivered lectures and seminars on global politics, health, logic, and creative power to audiences around the world. You can sign up for his free NoMoreFakeNews emails here or his free OutsideTheRealityMachine emails here.